Rail & Subway Line Access
For access by car…
The building hourly parking area can be accessed via the Sotobori-dori Street parking entrance on the 1F level of the Main Building.
Open: 6:00~22:00 *After 22:00, only exiting of cars from parking is possible.
☆Parking fee: ¥350/30 minutes
Visitors arriving by car from the direction of Otemachi, Tokiwabashi or Eitaibashi should proceed from Nihombashi and turn right at Nihombashi 3-Chome intersection, then make another right at the traffic signal of Yaesu Chuo-Guchimae intersection, and enter the TEKKO BUILDING Parking area from Sotobori-dori Avenue.
*Due the concrete center divider on Sotobori-dori Avenue, it is not possible to turn right into the parking entrance.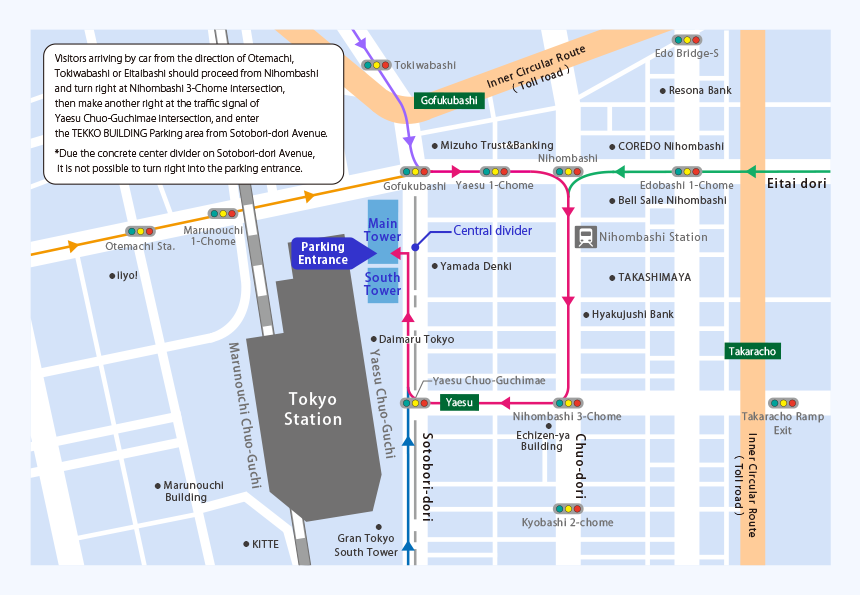 ---
Limousine Bus Terminal
Timetables for limousine bus arrivals and departures from Tekko Building (Tokyo Station Yaesu North Exit) can be confirmed at the links below.
Airport Limousine Bus※All service on Haneda Airport Routes arrivals and departures from TEKKO BUILDING is currently suspended until further notice.
FUJIKYUKO BUS
☆Only FUJIKYUKO BUS arrives at Tokyo Station Nihombashi Exit.
---
Address

1-8-2 Marunouchi, Chiyoda-ku, Tokyo